Hey balls!
As prozac version players know, there is a setting by default concerning the babos halos.
Even if you change the settings in your .cfg file,
the "cl_teamIndicatorType" remains on "1" when you launch the game after changing it to 0 for exemple.
0 = both teams by color
1 = both teams by halo
2 = own team by halo
I met KETAMIN, the prozac version developper and he told me about the .ini file to solve this problem.
In fact, this .ini file is just below the .cfg file in the "main" one.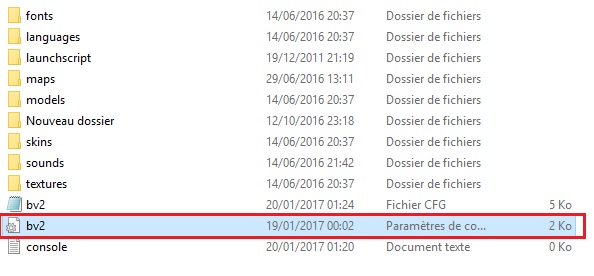 As the introduction tells us, the .ini file restores the settings contained in it on every start.
That's why these halos still remain!!!!
So, to change the setting from halo by default to colored teams by default,
OPEN the file and replace the 1 by 0 for the cl_teamIndicatorType :
cl_teamIndicatorType 0
then save the change and have fun on the prozac version without having to change this option each time  

I thank Ketamin for his help as well as i blame him for this default setting.

I blame myself for having no idea about this file.
Hope this will be usefull for some babos bored by their halos  

Enjoy playing and MAKE BABO GREAT AGAIN !  

Killball
PS : i also changed some sounds in the "sound" file.
Coz some were too loud or made me crazy by their repetitive occurence.
For exemple, i modified the alert sound when flags are taken and all those with this abusive virile voice  

If bored too, listen to these sounds (many have french names), select each sound file you would like to modify and do it with a free software like Audacity, if you dont have one already.
Of course, you can replace each sound by any other of your choice like a part of a song, etc.
Save your whole file first and keep a copy to restore in case of fail.
Same advice with the .cfg file if you have to reinstall babo without losing all your settings.
most interesting sounds to change  :
etook = alert when your team's flag is taken
ftook = sound when you take ennemie's flag
return = sound when flag is returned
cheerBlue/Redteam = sound when a team scores
Siren = the nuke alert (the last i have to change)  
Thx for reading.
I'm available if needed for further details or to share out sounds (cant insert them here i think)
see you, bloody kaniballs!  


killball

Babo Newcomer






Another and easier way is to just make your bv2.cfg file read only after the changes have been made


Similar topics
---
Permissions in this forum:
You
cannot
reply to topics in this forum